World Radiosport Team Championship 2014
July 8-14, 2014
Welcome to the home of WRTC2014!
The World Radiosport Team Championship (WRTC) is held every four years and consists of approximately 50 two-person teams of amateur radio operators competing in a test of operating skill. Unlike most on-the-air competitions, all stations are required to use identical antennas from the same geographic region, eliminating all variables except operating ability.
WRTC2014 will include 59 competing teams from 29 qualifying regions around the world. This will be the largest and most competitive WRTC ever!
Announcements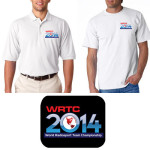 The holidays are coming and your family is asking you for gift ideas.  We have the answer!  How about some WRTC gear?  All you need to do is tell them the web address, your shirt size, and preferred color.  What could be easier?